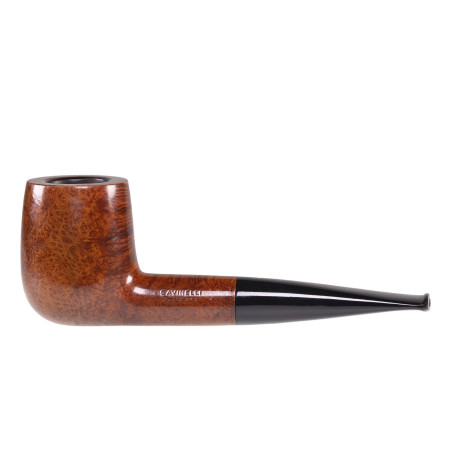  
Savinelli Punto Oro 141Ks C
1.OUTSIDE DIAMETER: 42 mm - 1.65 in
2.BOWL HEIGHT: 52 mm - 2.05 in
3.LENGTH: 146 mm - 5.75 in
4.CHAMBER DIAMETER: 22 mm - 0.87 in
5.CHAMBER DEPTH: 42 mm - 1.65 in
WEIGHT: 57 gr - 2.01 oz
In 1876 Achille Savinelli Sr. opened one of the first shop in the world selling exclusively smoking accessories and pipes in the city centre of Milan. His two brothers followed him soon afterwards with a similar shop in Genoa. Both shops were successful and were quickly known because of their good quality and perfect service. In 1920 Carlo Savinelli, son of Achille Savinelli I, runs the shop after him. He began to collaborate with some craftsmen in the Varese province, north of Milan, putting on market the first pipes branded Savinelli.
The real Savinelli production began with Carlo's son, Achille Savinelli Jr. He decided to leave the father's shop and he started to produce its own pipes. After the Second World-War, in 1948, Achille Jr. founded a new factory, employing about fifteen workers by 1950. The factory was based in Molina di Barasso,in the Varese province. The products were put on market under the name of Savinelli, that was adopted as mark.
Savinelli pipes rapidly began gaining prestige in markets all over the world and production greatly grew in the fifties and sixties. At present, about fifty employees work in the factory, producing almost a thousand pipes per day. With this production Savinelli is one the biggest pipe factory in the world. Nowadays the factory is owned by Giancarlo Savinelli, son of Achille Jr.
Data sheet
Size

LARGE

Color

NATURAL

Finishes

Smooth

Mouthpiece

Ebonite

Curvature

Straight

Tipo de filtro

6mm

Condition

Very Good 8/10

Maintenance & Conservation status

Restored
8 other products in the same category: