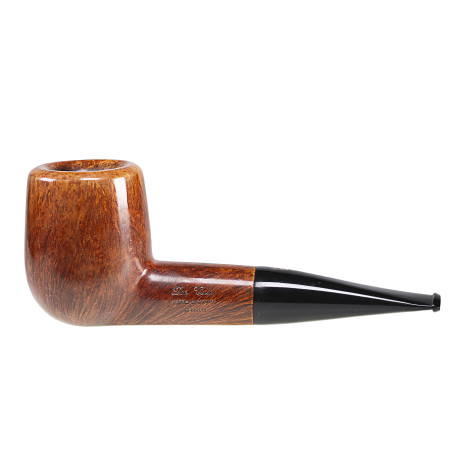  
Don Carlos 2 Notes XL
1.OUTSIDE DIAMETER: 41 mm - 1.61 in
2.BOWL HEIGHT: 61 mm - 2.40 in
3.LENGTH: 161 mm - 6.34 in
4.CHAMBER DIAMETER: 24 mm - 0.94 in
5.CHAMBER DEPTH: 47 mm - 1.85 in
WEIGHT: 100 gr - 3.53 oz
Don Carlos pipes are born of thirty-year experience, inspired by local tradition, when at the beginning of 1900, Primo Soriani was a pipe maker near Cagli.
The briar used in Bruto Sordini's workshop has been seasoned in an open place for two years at least.
Each pipe, completely made by hand, is the result of a tidy selection of the rough material and then of elaboration of the shape. The chamber is always left natural, without coating, to allow the smoker the discovery of the interesting taste of briar.
That's because a pipe must be beautiful, but overall it must smoke in the best way.
 Bruto Sordini was born in the small village of Cagli, high in the mountains of central Italy. While studying law, Bruto developed a passion for pipe making, and so gave up what was to be a promising law career in order to work with his hands and heart as well as his mind.
Bruto's work as a pipe maker is rather well known by aficionados of the briar. Following his apprenticeship with various firms, he formed, with two other pipe makers, a partnership called Ser Jacopo. After a few years of such collaboration, Bruto felt he could make more interesting pipes on his own, so he, along with his charming wife Rosaria, formed Don Carlos.
Data sheet
Size

GIANT XXL

Color

NATURAL

Finishes

Flame Grain

Ring

No

Mouthpiece

Acrylic

Mount

Normal

Curvature

Straight

Tipo de filtro

No
8 other products in the same category: