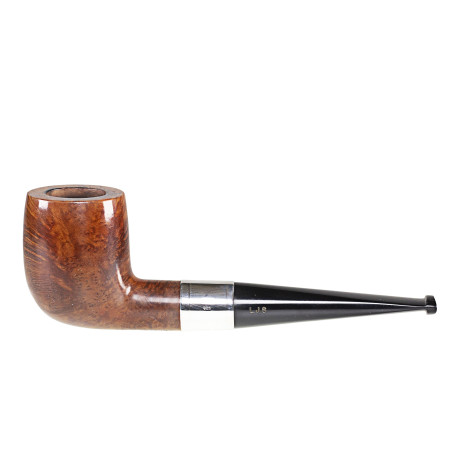  
Ferndown Root** Les Wood
1.OUTSIDE DIAMETER: 41 mm - 1.61 in
2.BOWL HEIGHT: 51 mm - 2.01 in
3.LENGTH: 150 mm - 5.91 in
4.CHAMBER DIAMETER: 21 mm - 0.83 in
5.CHAMBER DEPTH: 40 mm - 1.57 in
WEIGHT: 50 gr - 1.76 oz
FERNDOWN
Leslie "Les" John Wood had worked for Dunhill for 25 years, where he lastly was the master silver smith before founding his own brand L. & J.S. Briars together with his wife Dolly in 1983. So Les Wood's the second ex Dunhill worker to get self-employed after William John "Ashton"-Taylor.
Due to diffuse world wide rights to certain names he sold his earlier pipes as "Ellwood", "Les Wood" or "L. Wood". The average of presently 1500 - 2000 pipes a year is sold as "Ferndown" - named for the mansion he lives in - in the UK and US, but as "L. Wood" pipes in Germany.
To many pipe dabsters Les Wood's pipes embody the revival of great English pipemaking iitiated by Ashton in the early 1980's. The high grade Moroccan and Greek plateau he prefers is oil-cured in the tradition of both Dunhill and Ashton. The pipes are renowned for their pleasant, slightly nutty flavor and remarkable smoking characteristics. They feature impeccable craftsmanship extending to very good stem / bit work, though many pipes are often a bit heavier.
But, of course, the hallmark of his work is the excellent silver work. Almost all of his pipes feature rings or ferules for spigot stems. Grading is by finish: "Bark" (ca. 90%, sandblasted), "Chestnut" (brown or red, smooth) and "Root" (orange, smooth) and by size (one to three stars).
Les Wood's metal work is frequently in demand with other brands like Ashton or Comoy´s and most recently with Bentley for the John Aylesbury POY 2008.
Data sheet
Size

LARGE

Color

NATURAL

Finishes

Smooth

Ring

Silver

Mouthpiece

Ebonite

Curvature

Straight

Tipo de filtro

No

Condition

Perfect 9/10

Maintenance & Conservation status

Restored
8 other products in the same category: