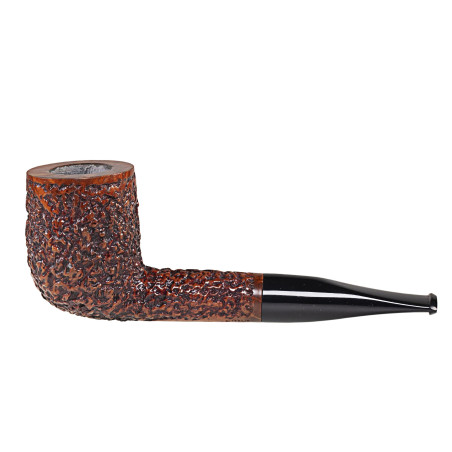  
Ser Jacopo R1
non-original mouthpiece - Pre coulotte
Splendidly briar pipe, hand carved by the prestigious Italian brand Ser Jacopo. Finished Carved with white acrylic mouthpiece.
Ser Jacopo, better to say Ser Jacopo dalla Gemma, was started by Giancarlo Guidi in 1982 upon leaving Mastro de Paja.
Giancarlo Guidi and Bruto Sordini broke away from Mastro de Paja in 1981 in pursuit of their own company. Ser Jacopo was named after an Italian nobleman. Guidi and Sordini, having taken part in creating the now infamous Pesaro "school" of pipe making, wanted to expand further. To accomplish this, Ser Jacopo focused their efforts on the pairing of the briar with a seemingly endless variety of mounts. Through the use of precious metals and stones, horn, and exotic woods Ser Jacopo pipes are given unique characters that many collectors find quite aesthetically pleasing. Although Ser Jacopo pipes borrow heavily from classical shapes, they are indeed quite unique in style.
In addition to creative mountings, Ser Jacopo is also well known for making themed pipes, and the most famous of these themes is perhaps the Picta Series, where pipes are modeled after pipes seen in pictures by and of famous artists, such as Vincent Van Gough.
Ser Jacopo makes multiple grades of pipes, with the "entry" level being the Geppetto brand, and the highest grade being the "Gem" series.
The small Ser Jacopo shop produces approximately 6000 pipes per year. The pipes are known for using outstanding Italian briar, which is well seasoned. The pipes have earned a well-deserved reputation for having excellent smoking qualities, equal or better than any other fine Italian pipe maker (or, for that matter, any other pipe maker in the world).
Giancarlo Guidi passed away on August 6, 2012, leaving behind a great legacy. He was 64 years old.
Data sheet
Size

MEDIUM

Color

RED

Finishes

Carved

Ring

No

Mouthpiece

Acrylic

Mount

Normal

Curvature

Straight

Tipo de filtro

No

Condition

Good 6/10

Maintenance & Conservation status

Restored
8 other products in the same category: