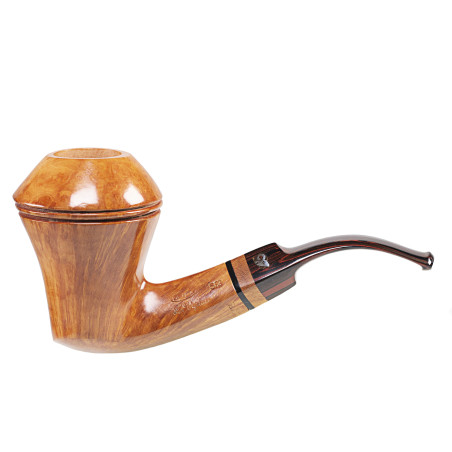  
Luigi Viprati 5 Quadrifoglio
1.OUTSIDE DIAMETER: 56 mm - 2.20 in
2.BOWL HEIGHT: 75 mm - 2.95 in
3.LENGTH: 150 mm - 5.91 in
4.CHAMBER DIAMETER: 23 mm - 0.91 in
5.CHAMBER DEPTH: 69 mm - 2.72 in
WEIGHT: 74 gr - 2.61 oz
The history of the Luigi Viprati pipe brand dates back to the 1970s when Luigi Viprati began to immerse himself in the world of pipes and craftsmanship out of passion. He started professionally manufacturing pipes in 1984 when his passion for this art form solidified.
Luigi Viprati dedicated himself to perfecting his skills and techniques in handmade pipe making. Over the years, he gained recognition among pipe enthusiasts for his expertise and attention to detail in each of his creations.
The Viprati brand gradually established itself, gaining followers and collectors who appreciated the quality and beauty of his pipes. His reputation grew rapidly, and his work became known both in Italy and internationally.
One of the distinctive features of Luigi Viprati pipes is their focus on innovation and design. Viprati not only adheres to traditional pipe patterns but also experiments with unique shapes, materials, and finishes. His creative and avant-garde designs, combined with impeccable craftsmanship, have earned him a prominent place in the high-grade pipe industry.
Luigi Viprati has become a recognized and respected master worldwide, earning praise from the community for his ability to blend aesthetic beauty with functionality.
Luigi Viprati pipes have endured in the market over the years and continue to be a benchmark of artisanal excellence in pipe manufacturing. Today, Luigi Viprati pipes are highly valued and sought after by collectors and pipe enthusiasts worldwide.
Luigi Viprati's journey is a testament to his talent, passion, and dedication as an artisan, as well as the lasting legacy he will leave in the world of pipes.
Data sheet
Size

LARGE

Color

NATURAL

Finishes

Straigth Grain

Ring

acrylic

Mouthpiece

Cumberland

Mount

Normal

Curvature

Bent

Tipo de filtro

9mm
8 other products in the same category: