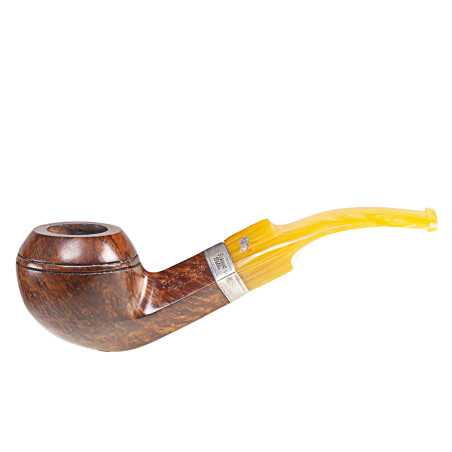  
Peterson Rosslare 80S
1.OUTSIDE DIAMETER: 46 mm - 1.81 in
2.BOWL HEIGHT: 45 mm - 1.77 in
3.LENGTH: 162 mm - 6.38 in
4.CHAMBER DIAMETER: 21 mm - 0.83 in
5.CHAMBER DEPTH: 31 mm - 1.22 in
WEIGHT: 68 gr - 2.40 oz
A Brief History of the Development of The Peterson Pipe
Charles Christopher Peterson: Born 4th March 1852 - Riga, Latvia. Died 11th September 1919- Hamburg, Germany.
1865 - 1889
The Kapp brothers, George and Frederick originally emigrated to Great Britain from Nuremburg in Bavaria .They first appear in the London trade directories in 1866,when they are listed as Meerschaum pipe makers of 98 Dean Street,Soho ,London. They then parted company in 1869 and established their own pipe shops independently of each other.
At some time around 1874 Fredrick moved to Dublin.while brother George remained in London until his death 5 years later. Fredrick and his young family settled in the Rathmines district of Dublin. In July of the same year he opened a new shop in 53 Grafton Street selling Briar and Meerschaum pipes.
Around 1876 Charles Peterson, a young, newly arrived, Latvian immigrant was hired by Fredrick as a pipe craftsman,primarily to make custom ordered briar pipes. However Fredrick had not long to live and died in 1881. Exactly one year later Fredrick's widow also died.The business was then inherited by their 10 and 12 year old sons and was renamed Kapp Brothers after executors were appointed.Charles Peterson by then was the lead craftsman and managed the business on behalf of Fredrick and his wife's executors until the boys came of age. When the Kapp brothers did eventually come of age, Alfred and Charles Peterson bought out Christian's shareholding and renamed the business Kapp & Peterson.
Christian chose to become a Doctor and moved to England .
PETERSON TODAY
Since Tom Palmer took over the business in 1990 he has continued to create a much more efficient production cycle of the pipes being manufactured at their premises in Dublin.
His emphasis has been very much on employing good skilled staff and quality traditional methods. At the same time they continue to evolve,providing the modern pipe smoker with modern choices and trends in pipe design and shapes.
Tom has always believed in the old saying –"if it was not broken, don't fix it" . Peterson had been around for over 120 years before he got involved so he decided to tread carefully before making any changes. On looking back over the years , Tom considered that most changes came, in the very large extension to the pipe range and the constant issuing of new shapes and series. He considered that at the end of the day, a pipe is a consumer led product,loosely defined and the consumer wants something new every so often.
Tom also believes that,"the major changes have been re-focussing our outlook on the smoker and given him variety and something to look forward to every year. We have always stayed close to our roots –our pipes are still seen as 'traditional' and I think that this is very important".
Given the modern social and political climate for smoking there is hope that in spite of these turbulent times, that Peterson pipes can continue to succeed against the various global issues facing the production of quality classical pipes.
Flying in the face of the condemnation of smoking on health grounds,the pipe appears to be going through a gradual upturn in popularity. No longer considered the province of older middle aged males,it appears to be gaining in popularity,particularly with significant numbers of younger people. 
Rising pipe tobacco sales suggest that pipe-smoking is making an unlikely comeback. Many old things eventually become trendy again and the latest yesteryear fashion making a comeback, appears to be pipe smoking. No one tracks how many young people smoke pipe tobacco. But the evidence, at least in the US, is of a renaissance.
This modest increase is credited by many to retro-loving students. Facebook and MySpace have thousands of members signed up to various pipe smoking enthusiast groups .
Let us hope that Peterson continue to flourish in this new groundswell of optimism and the hope for the increased demand for quality classic pipes.
Data sheet
Size

MEDIUM

Color

BROWN

Finishes

Smooth

Mouthpiece

Acrylic

Mount

Normal

Curvature

Half Bent

Tipo de filtro

9mm

Condition

Very Good 7/10

Maintenance & Conservation status

Restored
8 other products in the same category: