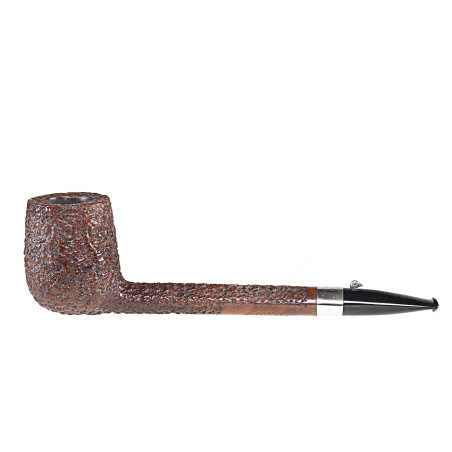  
L Anatra R Cercle de la Pipa 2002
1.OUTSIDE DIAMETER: 41 mm - 1.61 in
2.BOWL HEIGHT: 50 mm - 1.97 in
3.LENGTH: 160 mm - 6.30 in
4.CHAMBER DIAMETER: 20 mm - 0.79 in
5.CHAMBER DEPTH: 38 mm - 1.50 in
WEIGHT: 48 gr - 1.69 oz
The egg was opened on a day in September 1998 and "L'Anatra dalle Uova d'Oro" was born; the egg was laid by Massimo Palazzi, fantasy insipired by the famous tale.
In 2000, with the coming of the third millennium, "L'Anatra" decided to undertake a genetic transplant operation with the introduction of genes of Andrea Pascucci.
With both genes, "L'Anatra" is able to produce around 2000 "flights" each year, some acrobatic and weird, some respecting the traditional routes, always using the best "airstreams".
Performing very long flights, they "airplane" all around the world (Europe, America, Asia).
L'Anatra pipes, carved by Massimo Palazzi and Andrea Pascucci, herald from one of the great centers of Italian pipemaking, Pesaro in North Italy. Pesaro is famed for being preeminent in the world of pipe making to such an extent that, given its unique neoclassical styling, pipes made in the neoclassical style are often described as being of the "Pesaro School".
Pesaro features some of the greatest names in Italian pipe making, includingMastro de Paja, Rinaldo, Ser Jacopo, Le Nuvole, And Il Ceppo. Along with the area around Cucciago, Italy, this area has been at the forefront of the Italian pipe renaissance and the Pesaro style has permeated the method and style of pipe makers throughout Italy. The pipe makers of Pesaro all but created neoclassical pipe making. Neoclassical pipes are characterized by their loose interpretation of traditional shapes and their focus upon elegant, artistic lines and curves. Indeed, neoclassicism from Pesaro did to Italian pipes what the early Modernist artistic movements did to sculpture and painting.
The influence of the great Pesaro pipe makers is clearly visible in L'Anatra pipes, and yet L'Anatra has a style very much unto its own also. L'Anatra pipes, though certainly elegantly neoclassical, are more playful. It is difficult to articulate this playfulness in the form and composition, but clearly Palazzi and Pascucci have sought to push the boundaries of the neoclassical form. The result is elegant while seeming less formal and urbane. The styling seems as much intended to amuse as to impress. It is rare that an artisan of any variety can make light of his pursuits. One might argue that it is even more rare among pipe makers given the traditionalism that typifies them. Indeed, it is delightful to see pipe carvers of extraordinary ability and talent that are so in love with their craft that they are able to create pieces that display their silly, playful side in addition to their virtuosity as artists.
Perhaps the playfulness is most concretely visible in their stem nomenclature and grading. Unlike the staid white spot of Dunhill or the elegant signature on Savinelli Autographs, L'Anatra pipes feature a cast silver goose head on the stem! This is demonstrative not only of their playfulness, but also of their willingness and desire to be different from the norm. They do not strive to impress, they strive to make a truly delightful and pleasing pipe. Perhaps it is this attitude that makes L'Anatra pipes so superb that pipes should first be a joy to make, to smoke and to peruse and then, only once those most important attributes are satisfied, the true artistry of the maker will shine through.
L'Anatra pipes, though only recently introduced into the United States, are growing in popularity. The exceptional quality is more typical of pipes twice the price. Quite simply, L'Anatra pipes exhibit all of the superb characteristics of the finest Italian makers, but without the hefty price tag.
Besides, simply having a miniature silver goose accompany you as you smoke your pipe makes it all the more delightful.
[Source: Pipedia]
Data sheet
Size

LARGE

Color

BROWN

Finishes

Carved

Mouthpiece

Acrylic

Mount

Normal

Curvature

Straight

Tipo de filtro

No

Condition

Very Good 8/10

Maintenance & Conservation status

Restored
8 other products in the same category: